The blog
Politikiwi is the personal blog of Dan Moskovitz. It was originally set up as a place to publish my podcast Meet the Newbies, where I talked to the new MPs that were elected to parliament during the 2017 general New Zealand election. Then, after becoming hooked on prominent kiwi bloggers No Right Turn and Kiwiblog, along with my general enjoyment of writing and interest in politics, I tried my hand at blogging, and I enjoy it immensely.
Almost all posts will be about politics, but, occasionally I will blog on something different.
Me
I am a 16 year old student studying at Wellington High School. I can't exactly remember when I became interested in politics, but I think it was around the 2014 NZ election. I enjoy and care about politics because, in the end, every decision made in parliament will affect someone, and a lot of them will affect me.
Aside from politics and writing, I'm also a mad football (or soccer) fan. I'm a crazy supporter of the Wellington Phoenix FC, New Zealand's only fully professional football club. Up until 2018, I did a fair bit of writing work for them. More recently, I've became an intern journalist at The Football Sack. Aside from the Phoenix, I also support Manchester United and AC Milan. I'm not such a big fan of other sports, but I do like the occasional All Blacks game.
I'm a practising progressive Jew. I believe that the big bang was the result of God, but I do not believe that God has had any effect on the running of the universe since.
Aside from football and politics, I'm a terrible yet avid gamer, I'm learning Chinese, and I love science, acting, and creative writing. Basically, I'm an all-around nerd.
My Political Views
While I try hard to remain politically neutral and provide solely analysis in my posts, personally, I support socialism, with some capitalist aspects. The political views that I consider to be my core values, or the views I think are most important are the following:
I think we should have more state-owned companies. This gives the government a source of revenue other than tax, meaning that when the public buys something from the state-owned company, the government gains money, meaning that we might be able to lower tax. It also gives us something to sell in times of financial hardship, but that shouldn't be the government's goal when investing in the private market
So, perhaps surprisingly, I'm not the biggest fan of tax, and would rather that government gain revenue via the method above. However, investing in the private sector is costly, and raising taxes, especially on the rich, is generally the safest method of gaining revenue, not to mention the fact that they can afford it.
Universal Healthcare is good, and I think New Zealand's system of it is about the best it can be, although the healthcare sector needs more funding.
Ideally, there should be very little restrictions on welfare
I support the raising of the minimum wage as long as it's proven this will not hurt the people it's meant to protect. What I mean by that is that it's possible that if the minimum wage is put too high, employers may be forced to fire the people who should be benefitting from that wage increase.
I'm a proud supporter of globalization and hope that one day the world will come together and unite into one singular country. I also think that Brexit was a terrible idea.
That said, in places like Catalonia, where minorities are being suppressed, I think independence is the best short-term solution.
Democracy is good.
Fees-free tertiary education is good.
Environment before economy.
To put this into a bit more of a digestible format, I took the Isidewith political quiz. Here are some screenshots of my results.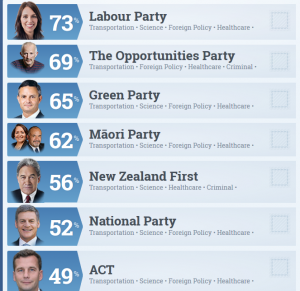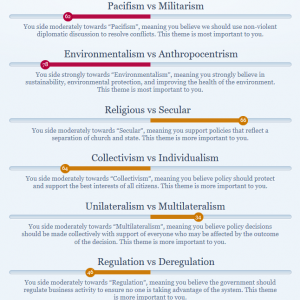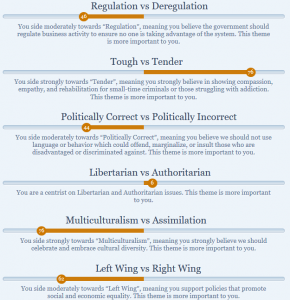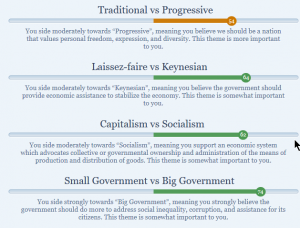 It's not perfectly accurate, but, it is probably the most accurate and in-depth quizzes out of the ones I have tried.
In my posts, I prefer to offer analysis, but I provide the above because I think it is important that my biases are known.
Rules
There is a singular policy which I implement on this site, both for myself and commentators, and it is "don't be a dick" (Wheaton's law).
The way you follow this rule is pretty simple. You just don't be a dick. Currently, all comments have to be approved by myself to show on the site and if I feel like the commenter is being an asshole, then I will not approve the comment.
The same goes for me. If you feel like that in a post I was being a dick, let me know via the Contact Me forum.
Social
I'm fairly active on Twitter, tweeting about football, politics, as well as sharing pictures of cute animals. If you want to connect there, my handle is @danmosky
Acknowledgements
I would like to thank my Mum and Dad Kate Frykberg and Dave Moskovitz for all of their help, support, and advice. You guys rock. They are also bloggers, and if you click on their names you will be taken to their blog. Go check them out!